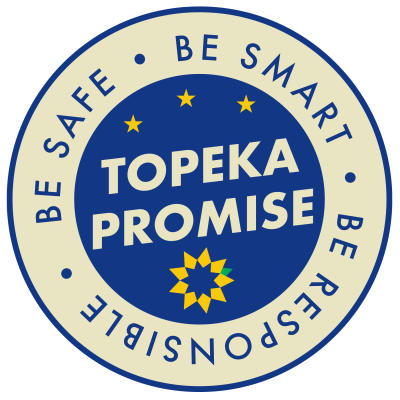 The Topeka/Shawnee County Community Recovery Taskforce unveiled Topeka Promise, a pledge to Topeka consumers that they are shopping safe.
The Topeka/Shawnee County Community Recovery Taskforce announced its Topeka Promise initiative today. The initiative will offer Topeka & Shawnee County businesses the opportunity to display their dedication to providing a healthy and safe environment through a Topeka Promise window cling. Businesses seeking this window cling must apply at SupportTopeka.com/Promise. Recipients will certify their intention to follow these five essential promises:
1) All employees will wear masks and appropriate PPE when dealing with customers (face shields or plastic guards are acceptable).
2) Social distancing is enforced through seating placement, capacity and line restrictions.*
3) All common surfaces will be disinfected regularly throughout the day.
4) Sanitizer will be available at the register to minimize risk with transactions.
5) Employees will be screened daily for symptoms and restricted from work if any are noted.
*Optional hours of operations for high-risk customers are encouraged, and/or carry-out/curbside delivery to mitigate risk.
"The Topeka Promise was developed as a way to assure Topeka shoppers that local businesses are stepping up to ensure their health and safety," said Michelle Cuevas-Stubblefield, Recovery Taskforce chair and senior vice president of strategy for the Greater Topeka Partnership.
Local Glory Days Pizza branch owner Jason Lehnherr was an early adopter of the Topeka Promise and the first to receive the Pledge window cling.
"Glory Days is pleased to make the Topeka Promise Pledge," said Lehnherr. "We take pride in providing our customers with a clean and safe environment that they can feel comfortable returning to again and again. The Topeka Promise represents a new standard of excellence businesses are setting for themselves and helps the community know where their can spend their money safely."
Brent Boles, co-chair of the Taskforce's Economic Recovery focus, said, "Part of our community recovery depends on Topekans being able to once again engage in commerce. If we can assure them a safe shopping experience, we'll be able to gradually rebuild consumer confidence and strengthen our local economy."
"So many of our businesses are going the extra mile and taking responsibility for the safety of their customers.  This promise is a commitment to an exceptional shopping experience in our city," said Matt Pivarnik, CEO of the Greater Topeka Partnership. "I am confident the Topeka Promise will help not only locals, but also out-of-town shoppers recognize the level of dedication to the consumer."
# # #
If you would like more information about this topic, please contact Bob Ross at Bob.Ross@TopekaPartnership.com.