Topeka, KS, July 11, 2019 – The City of Topeka, Shawnee County Parks & Recreation, Helping Hands Humane Society and Momentum 2022 are excited to announce that Topeka has received the official BETTER CITY FOR PETS™ certification, as part of the Mars Petcare BETTER CITIES FOR PETS™ program, showcasing its commitment to creating a pet-friendly community. More people than ever view pets as members of the family, and with 85 million pet-households in the United States, Topeka is on the forefront of creating a vibrant community where pets are not only welcome but thrive.
"We at the City of Topeka are excited about this certification. This is a positive reflection about how much we care about our citizens. We know that pets are our 'fur-children' and one of the things each pet parent wants to ensure is that their pet is accepted and included in our community." says Mayor Michelle De La Isla. "Topeka is a great place for families to keep themselves and their pets healthy and happy."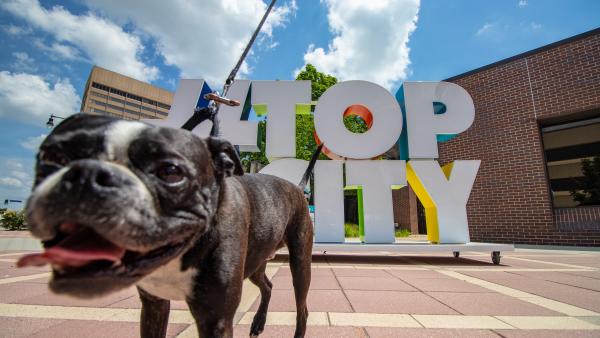 In January, Mars Petcare launched the BETTER CITY FOR PETS™ certification, an extension of the BETTER CITIES FOR PETS™ program which works with local government, businesses and non-profits to help communities make four-legged friends feel welcome. The certification, created in partnership with urban-planning organization, Civic Design Center, evaluates cities based on 12 traits of pet-friendly cities across four categories: businesses, parks, shelters and homes. Applicants that received a certification demonstrated their commitment to creating a pet-friendly community and fostering the well-being of all citizens and pet companions.
"We established the BETTER CITY FOR PETS™ certification to celebrate cities that are creating positive and welcoming environments for people and their pets and encourage more cities to recognize the benefits of our four-legged friends," said Jam Stewart, Vice President of Corporate Affairs at Mars Petcare. "We're excited to announce the inaugural group of certified cities and look forward to continuing this progress with The BETTER CITIES FOR PETS™ program."
The full list of BETTER CITY FOR PETS™ certification recipients is available here: https://www.bettercitiesforpets.com/resource/certified-cities. To learn more about how to get involved in this initiative, please visit www.bettercitiesforpets.com.
# # #
If you would like more information about this topic, please contact Kayla Bitler at 785.234.2644  or Kayla.Bitler@TopekaPartnership.com.
The Greater Topeka Partnership brings economic development organizations together for focus, efficiency and improved engagement. The Partnership serves as an umbrella agency including nine distinct efforts that support the enhancement of quality of life in Topeka & Shawnee County.