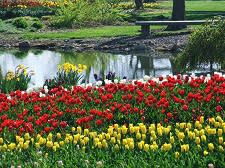 Tulip Time is starting early, but the Tulip Time Festival Day at the Lake will go on as scheduled April 17.
Topeka's annual Tulip Time Festival, recently recognized by the American Bus Association as one of the nation's Top 100 Event for Groups, began earlier than anticipated this year because of early blooming. A day of activities and fun at Ted Ensley Gardens will be a celebration of spring.
"Enjoy Tulip Time now and come back to the Ted Ensley Gardens on April 17," said Rosa Cavazos, Visit Topeka's director of tourism development and the organizer of the Tulip Time Festival Day at the Lake. "The gardens and Lake Shawnee are beautiful even after the tulips have bloomed. The festival is a day to get out and experience that beauty."
[[endteaser]]
Visitors can enjoy a classic car show, take a gardening class or a photography class, get a guided tour of the gardens, shop for gifts from local vendors, get lunch from one of three food trucks and even stop at the Topeka/Shawnee County Public Library's bookmobile. Tulip Time Day at the Lake begins at 10 a.m. and concludes at 4 p.m.
Activities schedule:
10 a.m. to 4 p.m. classic cars, food trucks and vendors
10:30 a.m. Topeka Police Department Pipe & Drum Corps
11 a.m. to 2 p.m. TSCPL Bookmobile
11:30 a.m. Master Gardener class
Noon Topeka High School Drumline
12:30 p.m. Wolfe's photography class 
1 p.m. Kansas Youth Chorale 
1:30 p.m. Master Gardener class
2 p.m. Topeka Acappella Unlimited
2:30 p.m. Wolfe's photography class 
3 p.m. Beverly Bernardi Post Conservatory of Dance
No admission is charged for the day's events, including gardening and photography classes. Food trucks and vendors will charge. For more information about Tulip Time Festival Day at the Lake, go to VisitTopeka.com/TulipTime. Also join the Facebook event.
There are more than 120,000 tulips and daffodils in bloom during Tulip Time. Enjoy them at Lake Shawnee's Ted Ensley Botanical Gardens, at Old Prairie Town at the Ward-Meade Historic Site, at Gage Park and in Downtown Topeka.
-30-