August 3, 2015 (Topeka, Kan) - Visit Topeka Inc. and the City of Topeka have contracted a national visual communications company to develop a wayfinding signage system for the capital city.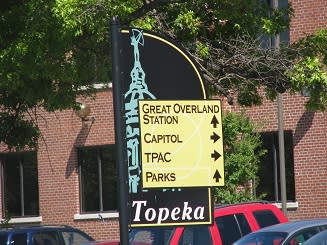 AXIA Creative specializes in branding, advertising and wayfinding for city, corporate and retail markets. They have a client base throughout the United States, as well as parts of Canada and more than 19 Caribbean territories. New wayfinding signs are part of the city-wide branding efforts being led by Visit Topeka Inc. and several other local organizations.

A representative from AXIA Creative will be in town August 12 - 14 to hold short meetings with members of the community, and drive around the capital city before making suggestions on a new wayfinding system. After gathering community input, AXIA Creative will then design a system that will improve vehicular, pedestrian, trail and bicycle navigation through our city.

Heartland Visioning is sponsoring a free public workshop to allow Topeka residents to give their input on the current wayfinding signs, and where they'd like to see changes.

Time: 9:30 a.m. - 10:30 a.m.
Date: Friday, August 14, 2015
Place: Lower level testing center, Washburn Technical Institute

 
---
Contact: Brett Oetting
President and CEO, Visit Topeka Inc.
Brett@VisitTopeka.com