Because we like to live dangerously, we take our young children out to restaurants. Taking little kids out to eat is the ultimate extreme sport for parents. Sure, they may sit like angels with napkins on laps, neatly eating their meals and offering sweet smiles for passing servers. They may also go from Jekyll to Hyde before the appetizers cool, leaving you fleeing the restaurant with half-finished meals as patrons with grown children quietly discuss how their kids never acted that way in public (suuuuure). Still, there are some local Topeka restaurants that really go above and beyond to make eating out with kids a lot of fun for everyone. There are some things we look for in a restaurant we want to bring the kids to:
Entertainment for short attention spans. Screens at the tables and dancing animatronic characters are not required⁠—or desired. A play corner, some family games, or good windows with fun things happening outside are even better. 
Changing tables in the men's and women's restrooms. Matt is a stay-at-home dad who is over changing babies on bathroom floors. 
Kid-friendly, healthy food options. We'd love it if our kids ate salads. They don't. We're cool with a treat when we eat out, but fruit as a side choice and milk as a beverage option go a long way with us. 
Here are a few of our favorite local spots in Topeka to eat out with the kids. 
ALSO READ: Our Favorite Playgrounds You've Never Heard of in Topeka, Kansas
The Wheel Barrel
925 N Kansas Ave, Topeka, KS 66608
The five-year-old's favorite: Grilled Peanut Butter and Jelly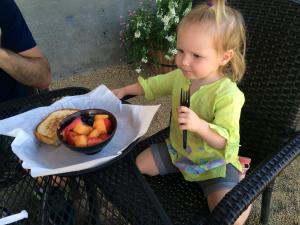 Known for amazing grilled cheese and craft beer, The Wheel Barrel is also a fair-weather favorite for local families in-the-know with an amazing back patio. A playhouse, gravel diggers, blocks and buckets of chalk to decorate the giant concrete wall along the patio make this a place kids can spend hours happily entertained. The tables and patio umbrellas make it comfortable for grown-ups too. On a recent visit, we were surprised with live music and an impromptu toddler dance party. Go on Sundays for the mimosa bar and you'll have a full day of food and fun all before naptime. 
The Pennant
915 S Kansas Ave, Topeka, KS 66612
The five-year-old's favorite: Mac and cheese with a gooey cookie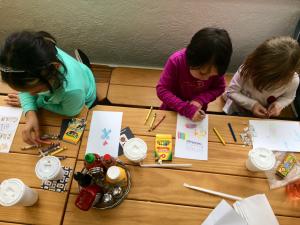 Eat upstairs to enjoy the vintage arcade, or downstairs for bowling. Either way, there's plenty for the whole family to do and see. We're on a mission to expose our children to as much pinball as possible, so this is one of our favorites. We love eating upstairs on the picnic tables overlooking Kansas Avenue, especially on days when downtown events bring tons of things to watch. Kids will love the shakes here, and adults will love the local food favorites, including the famous Wolgast burger named for the former Topeka mayor. 
Bobo's Drive In
2300 SW 10th Ave, Topeka, KS 66604
The five-year-old's favorite: Hot dog with chocolate shake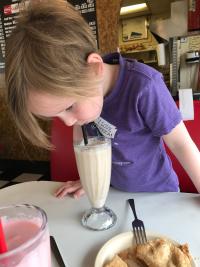 It's a Topeka classic with amazing shakes and pie, so it's going to be an easy sell for kids. The cozy, vintage vibe make kids feel like they're going somewhere really special. A small footprint makes it easy to keep little kids close by, and every table has a great view of the busy intersection at 10th and Macvicar, making it the car-counting capital of Top City. 
Tammy's Billard Airport Café
3600 NE Sardou Ave # 4, Topeka, KS 66616
The five-year-old's favorite: Giant pancakes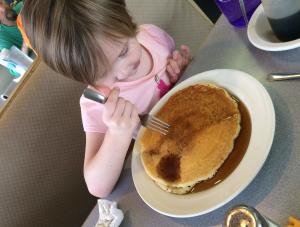 What's better than watching real airplanes take off and land? Just one thing: your kids doing that while you dive into an open-faced hot turkey sandwich followed by that day's pie special. Tammy's is one of Topeka's best-kept secrets, perhaps because it's a little off the beaten path, but the comfort-food standards are delicious and big windows give a great view of the runway. Little airplane fans can often meet a real pilot or two during lunch on busy days. Lunch buffet is available on weekdays so you can get food into little mouths quickly. Also, breakfast is served all day, as it should be. A warning: this place is cash or check only and does NOT accept credit cards, so come prepared to pay the old-fashioned way.    
Kid's Jam at Specks Bar & Grill— Sunday evenings from 5 to 9
2105 SW Mission Ave, Topeka, KS 66614
The five-year-old's favorite: Grilled cheese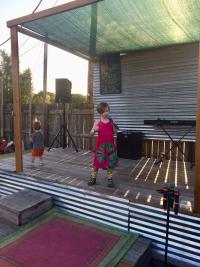 Kid's Jam is a free weekly open mic designed to get children comfortable on stage. Kids climb the stage at Specks and sing karaoke-style, dance, play an instrument, tell jokes, or any other performance of their choice. Events are emceed by Kyler Carpenter, himself a major celebrity among Topeka's pint-size set, with performances from Josh Carpenter and support from Casey Jones Kuribayashi. Bubbles, sidewalk chalk, and hula hoops provide entertainment between sets. The organizers maintain a friendly atmosphere that makes children of all ages feel welcomed and supported. Specks is a Topeka institution best known for the three-pound Original Speck Burger, perfect for spitting with a crowd. Parents can enjoy the performances over a frosty beer, and trust us, you haven't lived until you've seen a 4-year-old do a killer rendition of Old Town Road.
For a full list of restaurants visit the Eat and Drink section!