EXPLORE TOPEKA'S PERFORMING ARTS SCENE
With venues big and small, Topeka is no stranger to the performing arts! Read on to learn about some of the stages that call the capital city "home." 
HISTORIC JAYHAWK THEATRE 
Downtown's historic Jayhawk Theatre was built in 1926 to be a motion picture cinema. Today, it hosts a variety of main-stage acts. Ongoing restoration of the theatre allows visitors to see this historic site in a state of transition. Still, the show(s) must go on!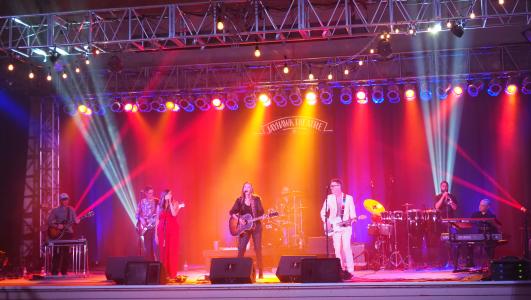 TOPEKA PERFORMING ARTS CENTER 
Suited to accommodate Broadway touring companies, world-class orchestras and major dance companies, the Topeka Performing Arts Center is a multi-purpose venue that hosts large concerts, plays, musical performances and more in an elegant, Art-Deco­style space.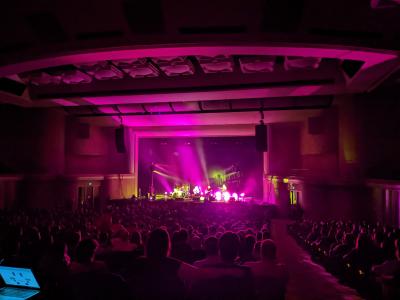 WHITE CONCERT HALL 
Housed on the Washburn University campus, White Concert Hall is home to the school's music department, as well as the Topeka Symphony Orchestra, the Topeka Festival Singers, the Sunflower Music Festival, and other university and community events. 
STORMONT VAIL EVENTS CENTER 
From demolition derbies to Cirque Du Soleil, Stormont Vail Events Center hosts many large events that appeal to a variety of audiences. Renovation of the Stormont Vail Events Center brought the Topeka Tropics, who are now in their second season! In addition to football, Landon Arena will host the Kansas Kids Wrestling Championships, the Harlem Globetrotters, Blizzard Bash Demolition Derby, and many more events in 2023. Annual exhibits and fairs are also held here throughout the year.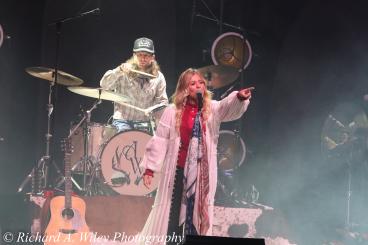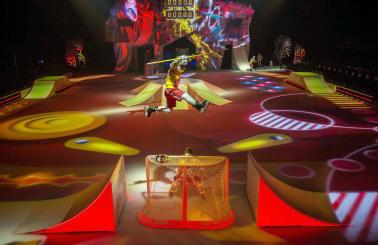 TOPEKA CIVIC THEATRE 
Founded in 1936, the Topeka Civic Theatre claims to be the oldest continuously operating community dinner theatre in the country! With both dinner and non-dinner shows, as well as bar service and scrumptious desserts, you'll want to catch a show on the TCT mainstage during your next trip to Topeka.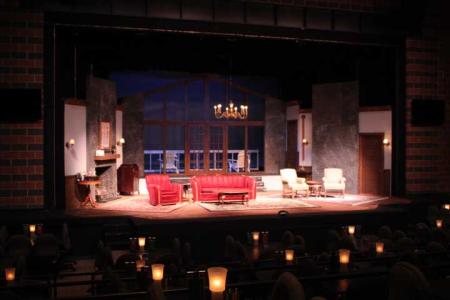 EVERGY PLAZA 
Evergy Plaza is at the heart of downtown Topeka. This vibrant city plaza features more than 200 events each year, delighting visitors with a splashpad and nightly fountain shows in the summer and ice skating in the winter! Enjoy free concerts, movie nights, cultural festivals, food trucks and more at this premier outdoor entertainment venue.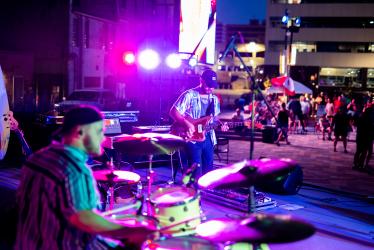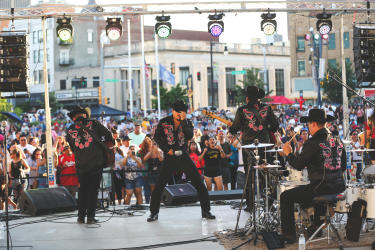 VISUAL ARTS 
From outdoor installations to galleries galore, Topeka has a number of art offerings to enjoy! Here are a few you won't want to miss. 
GALLERIES 
While there are too many local art galleries to list in this section, here are a few of our favorites! While exploring Topeka check out Two Wolves Studio & Artist Den, Stephen Smith Gallery, NexLynx Gallery, Leaping Llamas, the NOTO Arts Center or Amused!  The Topeka and Shawnee County Public Library also features revolving exhibitions at the Sabatini Gallery. For a current list of galleries visit artstopeka.org.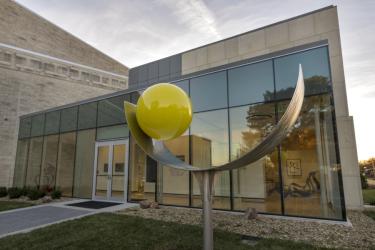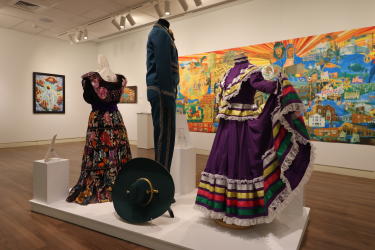 MULVANE ART MUSEUM 
The Mulvane Art Museum on Washburn University's campus is one of the oldest accredited art museums west of the Mississippi River, housing a collection of about 5,500 objects from around the world. The museum's collection prominently features the work of artists from Kansas and the Midwest.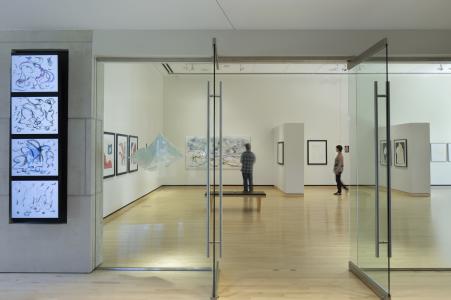 MURALS 
Murals can be found throughout the capital city — if you know where to look! We recommend making stops in downtown Topeka and the NOTO Arts & Entertainment District. Then, make your way over to the Great Mural Wall of Topeka, just behind the Stormont Vail Events Center, for a 360-degree, storyboard-like display. Also check out the inspiring mural at the Brown v. Board of Education National Historic Site, and hop over to 10th and Kansas Avenue to enjoy downtown Topeka's newest mural "Golden City Serenade," a stunning tribute to Topeka's Middle Eastern and North African community featuring 24 karat gold leafing! Visit ArtsTopeka.org/mural for a complete list of locations!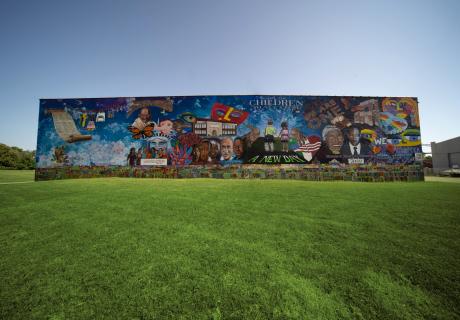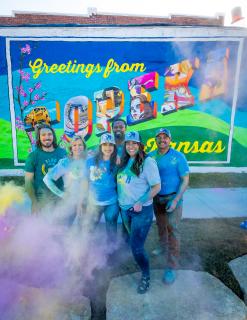 TRUCKHENGE 
An eclectic combination of recycled art and nature sanctuary, Truckhenge is an ode to the world-famous Stonehenge. The local art park features antique trucks jutting from the ground, surrounded by various upcycled art installations and native plants. This outdoor gallery is located on a family farm, so visitors should book tours in advance.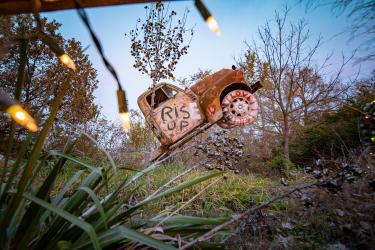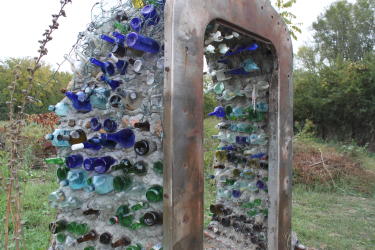 SCULPTURES 
Located in and around Washburn University's White Concert Hall, the Rita Blitt Art Gallery and Sculpture Garden features a collection of works gifted by award-winning artist Rita Blitt. Blitt's sculptures can be found in public spaces around the world, and a few just happen to call Topeka "home"! More than 20 additional sculptures and art installations can be found throughout Washburn's campus, so feel free to wander the grounds for your outdoor-art fix. 
ART INSTALLATIONS 
Throughout Topeka, public art installations provide pops of color and history. Walk through downtown to see and read about statues of prominent Topekans; stroll across the Kansas Capitol grounds to spot historical figures like Dwight D. Eisenhower and Abraham Lincoln; and explore NOTO to find an array of installations that are sure to make you stop, admire and think. 
OLD PRAIRIE TOWN AT WARD-MEADE 
History, family fun, outdoor adventures and more await you at Old Prairie Town at Ward-Meade. Step back in time to explore this 1800s prairie village, complete with general store, drug store (with soda fountain and candy counter inside), 1854 replica log cabin, schoolhouse, train station and the like. One of the crowning exhibits is the Ward-Meade Mansion, originally the home of Anthony A. Ward. Period furniture, clothing and artifacts are available to view inside the mansion during regularly scheduled guided tours.
A new Native American exhibit debuted in Old Prairie Town in 2022. The project features an authentic Indigenous village with elements such as a prayer circle, medicine wheel, and wigwam at the heart of the encampment. A collaboration on the part of Shawnee County Parks & Rec, Citizen Band and Prairie Band Potawatomi tribes, the project honors Topeka's area heritage. 
The botanical garden located outside the Ward-Meade Mansion is also a sight to behold. It features a zen garden, plentiful blooms and a number of seasonal events, including another stop along the Tulip Time "roadmap".