GREATPLAY TOPEKA 
There's something for everyone at GreatPLAY. Enjoy the indoor/outdoor fun center where you'll find tons of exciting things to do for the entire family. Activities include a trampoline park, arcade games, laser tag, paintball, FootGolf, disc golf, bike trails and more. 
BONKERS 
Bonkers brings all the fun and thrills of an amusement park to Topeka! Visit a place where family and friends come together for a fun-filled day, featuring a giant play maze with a two-story slide, an arcade with games for all ages, and great food with a chef-inspired menu! 
LEAP TRAMPOLINE PARK 
From tots to teens, Leap Trampoline Park has your child's next birthday bash covered with a jump area, rock wall climbing, dodgeball and more. Be sure to check out their weekend pricing and events like Toddler Time and Cosmic Night. Leap takes indoor family outings to a new level with many ways to play. 
SKY ZONE TOPEKA 
Sky Zone is a great place to work on your coordination, play a game of SkySlam (trampoline basketball) or simply find a new way to be active. Special attractions include the Warrior Course, Freestyle Jump, Ultimate Dodgeball, SkyJoust, Foam Zone and Free Climb. 
SPORTS CENTER 
Generations of children and families have come to love Sports Center, a dynamic family fun center featuring Mini-Golf, Gooney Golf, batting cages, a driving range, and go carts! New in 2023 is a fully renovated clubhouse featuring a snack bar, game room and expanded arcade. Boulevard Brewing Company products are available at the bar. Sports Center will also debut a new 155-yard par-3 course, which will include replicas of "Famous Holes Around the World."  Visitors can try their skills on a replica of Hole 12 from Augusta, or the Island Green from Sawgrass in Florida! 
POTWIN POTTERY 
Potwin Pottery offers a first-rate creative experience. Pick a piece of pottery, plan your design, choose colors and paint! Once you've let your creativity flow, the piece is fired and made available for pickup. Families and kids can think outside of the box with a whimsical color scheme or go for something more traditional. Whether you're going for a functional piece or an artistic treasure, there is something for everyone. Time to grab an apron and get to work!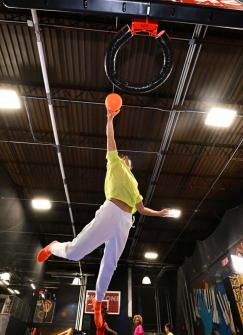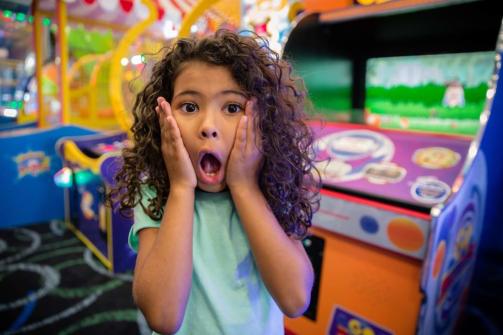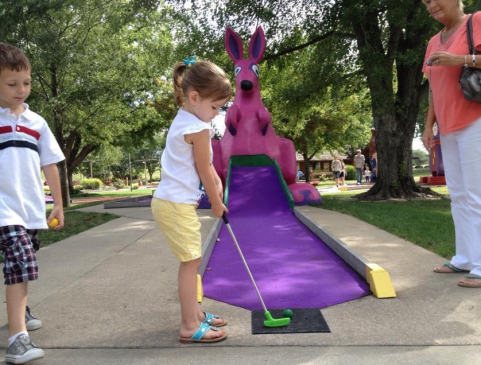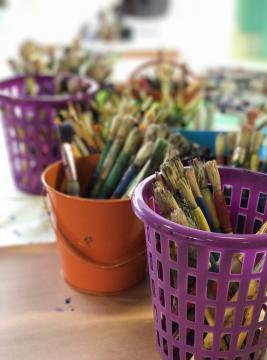 MINI GOLF 
If discs aren't your thing or the family is looking for something more kid-friendly, maybe we can interest you in a round of mini golf! There are several local places to grab a putter and add a little whimsy to your day. Whether you desire to shoot around dinosaurs and giant spiders, putt by the glow of neon lights, or enjoy some time on a standard miniature golf course, Topeka has what you're looking for. We encourage you to check out the following putt-putt locations: 
• SPORTS CENTER  6545 S.W. 10th Ave.
• MINI GOLF a new neon black-light experience inside West Ridge Mall  
• WEST RIDGE LANES AND FAMILY FUN CENTER 1935 S.W. Westport Drive 
• TOPCITYGOLF AT GREATLIFE NORTH 350 N.E. US-24 Highway  
• PURE GOLF TOPEKA 7523 S.W. 21st St. 
MORE FAMILY FAVORITES:
Topeka Zoo & Conservation Center
Kansas Children's Discovery Center
Old Prairie Town at Ward-Meade Historic Site
B&B Theatres
Topeka and Shawnee County Public Library (Sabatini Gallery)
Rip On Skate Park (near Washburn & 21st)
Mulvane Art Lab (Kid-focused lab)