The Charles Curtis story begins with Topeka and culminates with his role as the United States' first Vice President of color. His ultimate legacy is that of "a champion of the American farmer, an advocate for women's suffrage, and a standard bearer of granting citizenship to Native Americans."1 The first person of color to serve as Vice President of the United States of America was Topekan Charles Curtis. He is also the first Native American to hold the office. Curtis is joined by Kamala Harris, historically the country's first female Vice President, and the first person of African and South Asian descent.
Charles Curtis (b. January 25, 1860) came from a mixed-race family. His father, Orren Curtis, a white man from an well-off family, and his mother, Ellen Pappan, a member of the Kaw Nation and decedent of the founders of Pappan's Ferry, began their family in Topeka. Curtis was the great-great grandson of White Plume, a Kansa-Kaw chief who had offered assistance to the Lewis and Clark expedition in 1804.2 Following the death of his mother in 1863 and the unstable circumstances Curtis' father found himself in following the Civil War, a young Charley would spend much of his youth on the Kaw Reservation in Council Grove, Kansas with his maternal grandparents. From childhood, Curtis began making a name for himself. First learning to ride horses bareback on the reservation, he would go on to ride as a jockey for his grandfather and other owners. His mixed heritage provided him the opportunity to diversify his knowledge, skills and future. His native languages were a mix of French and Kaw, and he later added English as he continued his education and growth. As a young man, Curtis returned to Topeka to live with his paternal family. It was in Topeka that his career gained momentum. Just starting off, Curtis read law while working under attorney A. H. Case, eventually becoming a partner at the firm.3 His foray into politics came when he was elected county prosecutor in 1884. It was at this time that Curtis married Annie Elizabeth Baird; they would go on to have three children. After serving as county prosecutor, Curtis would go on to serve on the U.S. House of Representatives in 1892; a election victory that would garner him national acclaim. Curtis, in total, served eight terms in the House of Representatives, establishing his "elder stateman" status.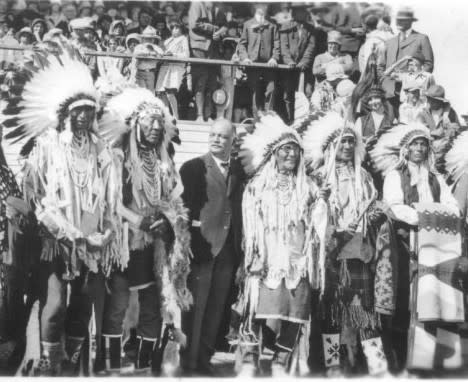 During his time in Legislature, Curtis was able to work on Native American rights as well as help pass the 19th amendment in support of women's right to vote. After filling a vacant Senate seat from 1907-1913, he won his seat in 1914. He was elected to majority leader in 1925. By this time, Curtis had caught the attention his Republican party members, including presidential hopeful, Herbert Hoover. Although at one point he had his sights on the presidency as well, Curtis was eventually nominated as Hoover's running mate in 1928. The duo won the race and served a single term, 1929-1933; a major contributor to their reelection loss being their ties to the Great Depression period. Of his many personal crusades as Vice President, Curtis wanted to help breath new life into the economy. In 1932, his work led to the creation of the Federal Home Loan Bank (FHLBank), and its location in Topeka is his doing.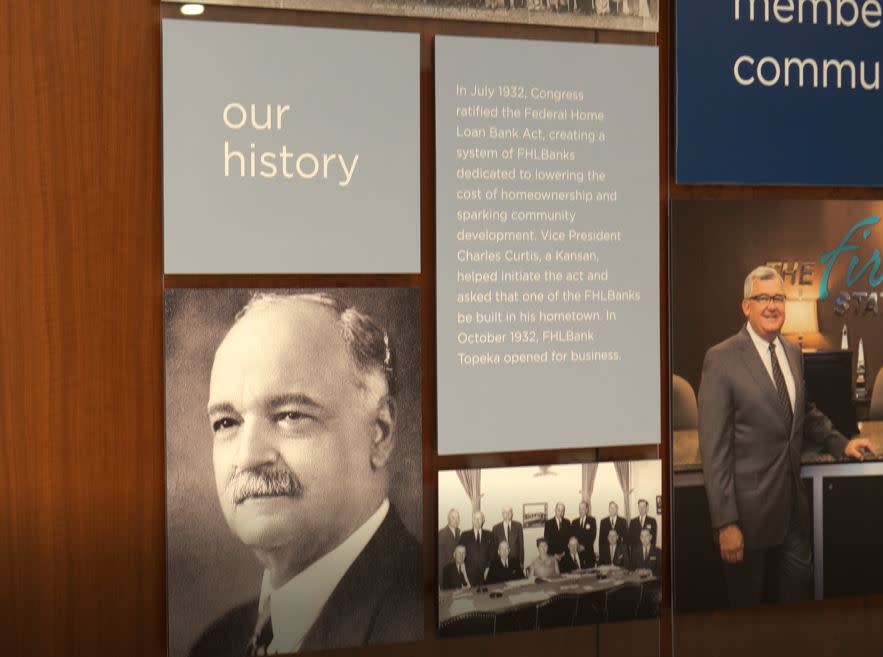 In a statement made in 2016 during the dedication of a statue made in Curtis' image, Pat Doran, executive vice president, FHLBank Topeka, remarked: 
"Charles Curtis has a special place in FHLBank Topeka history. In fact, we wouldn't be here in Topeka if it wasn't for him. In 1931, at the height of the Great Depression, hundreds of thousands of American families were losing their savings and their homes, as lending institutions collapsed. Home lending ground to a virtual halt. This economic shock exposed major weaknesses in the foundation of home financing and homeownership in the U.S. With the home lending market in peril, President Hoover called for innovative measures to reform the system. Alarmed by the failures, and deeply troubled by signs that homeownership was beginning to erode, Hoover urged Congress to find ways to restore liquidity to the system....The result, the Federal Home Loan Bank Act was signed into law on July 22, 1932. The act created a central reserve credit system made up of 12 banks located across the country. Their mission was to support residential mortgage lending and community investment by providing credit to savings and loan associations...Charles Curtis is a big reason FHLBank Topeka is in our community. Many of the other FHLBanks are located in major metropolitan areas like New York, San Francisco, Boston, Dallas and Atlanta. Thanks to native Kansan Charles Curtis, who was vice president of the United States under President Hoover at the time the Federal Home Loan Banks were created, one of the banks is located in Topeka."4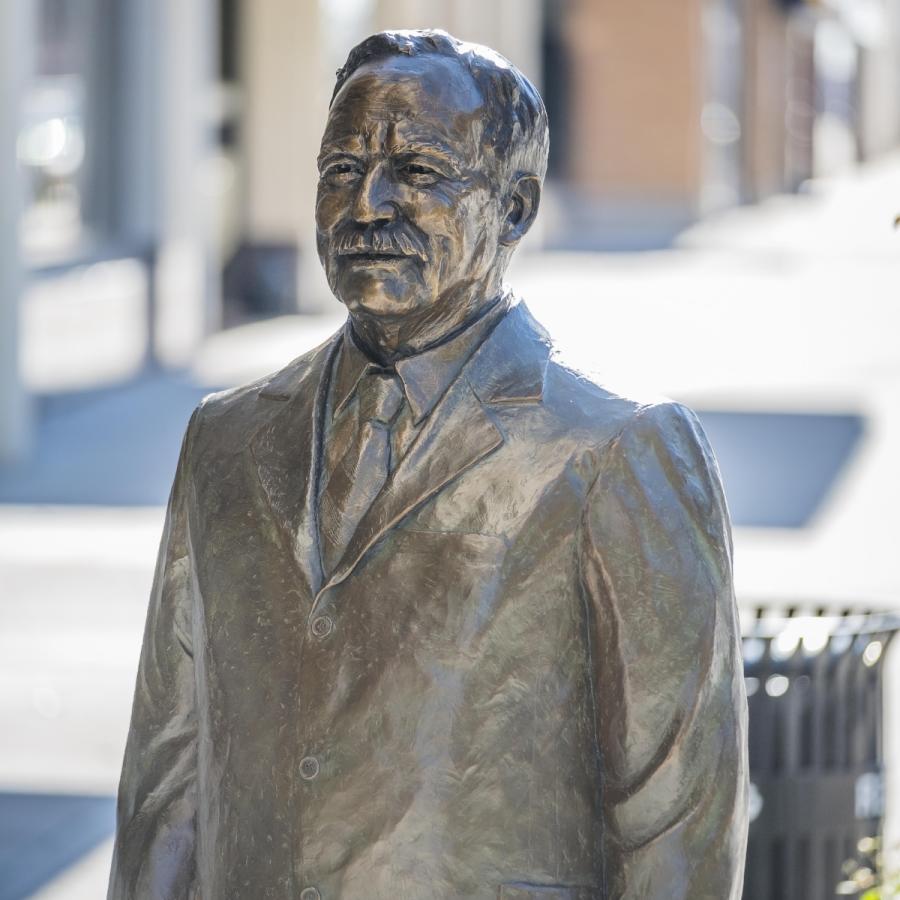 This statue is located in Downtown Topeka at the 800 block of S. Kansas Ave. At the statue's dedication ceremony, others remarked upon the character and legacy of Curtis. 
Former Topeka Mayor Larry Wolgast remarked that "of all the statues and stone on Kansas Avenue thus far, the only native Topekan is Native American Charles Curtis."
Crystal Douglas, a representative of the Kaw Nation, commented, "To us, he is Cousin Charley."
During his roughly 50 years in public office, Curtis focused his efforts on the issues that matter the most to him. As American author/newspaper editor and fellow Kansan, William Allen White noted on the vice president's character, "His politics were always purely personal. Issues never bothered him." Throughout his career, he fought for farm relief, "Indian Affairs," and women's suffrage. 
Charles Curtis was laid to rest in Topeka Cemetery in 1936. He is remembered for his staunch character and deep reverence for his Kaw heritage.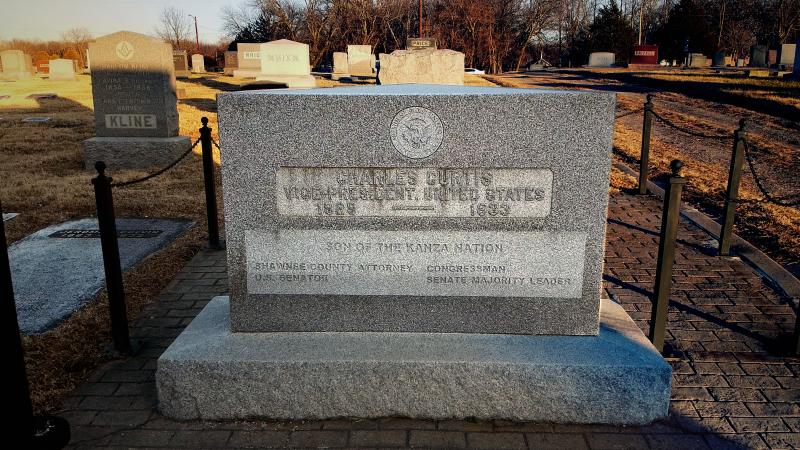 [1] Seller (sp?), Elizabeth, Sculptor. 2015. Notes: Charles Curtis Plaque presented by FHLBank Topeka. Located on Kansas Avenue, adjacent to bronze Curtis statue. Topeka, KS. 
[2] "Charles Curtis, 31st Vice President (1929-1933)." The United State Senate. https://www.senate.gov/about/officers-staff/vice-president/VP_Charles_Curtis.htm
[3] "Charles Curtis." Kansapedia: Kansas Historical Society. https://www.kshs.org/kansapedia/charles-curtis/12029
[4} DeVader, Julie. "Charles Curtis Dedication Remarks." FHLBank Topeka. 2016.