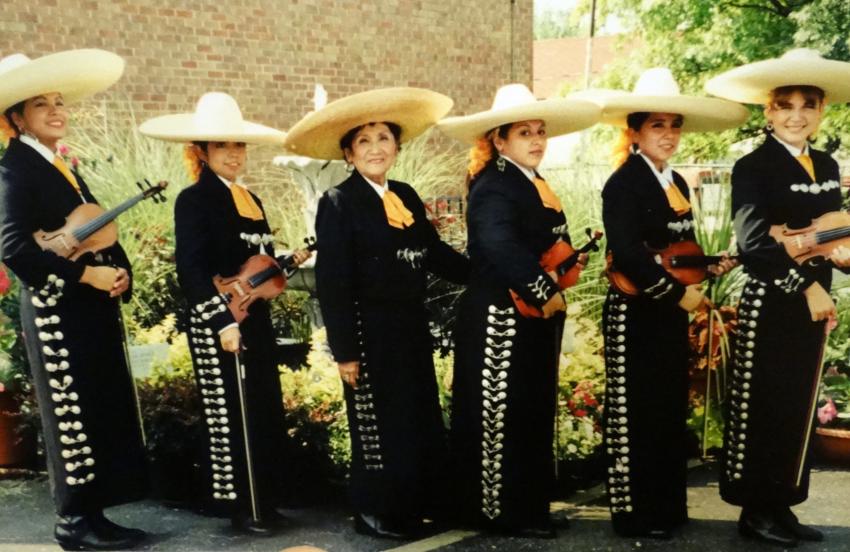 Teresa Cuevas (pictured third from the left) was the co-founder of the trailblazing all-female mariachi band Mariachi Estrella de Topeka. Photos courtesy of Michelle Cuevas-Stubblefield. 
Teresa Cuevas was born in Topeka, Kansas on April 20, 1920. As the child of Mexican immigrants, Teresa always had a close connection to her heritage growing up, especially when it came to music. Starting from the age of eight, Teresa was a violinist. Her early studies focused primarily on classical pieces. However, Teresa heavily gravitated toward mariachi music, a type of regional folk music originating in Mexico. The genre is often characterized as music "that makes you move." With robust singing, smooth harmonies and driving rhythms, mariachi elicits an array of emotions in the listener. 
Typical instruments employed in mariachi music include vihuela, a five-string guitar; the guitarrón, a large, fretless six-string bass guitar; a standard six-string acoustic guitar; and violins and trumpets, which usually play the melody. A symbol of the cultural heritage, many Mexican Americans view mariachi as a source of pride and as a form of music that carries on a celebrated tradition within their community. Mariachi music has also attracted millions of fans across the U.S. since the days of the Chicano Movement in the 1960s.1   
ALSO READ: New Art Exhibits Featured at Mulvane Art Museum this Spring
"Mariachi music has so much heart," Teresa once mused, "A lot of the music is about love, some is lively, some is slow. When you become accustomed to it, you learn where it is appropriate to yell 'gritos!' The yell releases something that you feel. When you start hearing the 'gritos' from the audience, that's an acknowledgement that they do like the music."2
Teresa played in the orchestra throughout school. However, her music had to take a backseat to her home life after marrying, with most of her time being dedicated to being a mother and working in agriculture and dairy farming with her husband. Teresa would return to music after her children had grown, starting first through her church, Our Lady of Guadalupe. 
The violinist credited a priest from Guatemala for teaching her and other members of the parish new songs in Spanish and providing encouragement and inspiration to many of the aspiring musicians. Teresa would go on to be a part of several local mariachi groups through her church before forming the Mariachi Estrella with seven other female musicians in the 1970s. In addition to Teresa, the founding members included Connie Alcala, Delores Galvan, Rachel (Galvan) Sangalang, and Linda Scurlock.
"All of us started liking the songs we heard as young girls, from the songs that our parents brought from Mexico," said Teresa. "So, we started playing some songs we heard from records. I started learning all those by heart, and then we started sounding pretty good. We didn't even have any music."3 
The group honed their technique by attending music workshops through the U.S. They began to enhance their local presence in Topeka (Mariachi Estrella was a frequently featured act at Topeka's Annual Fiesta Mexicana) and started booking gigs throughout the state and region.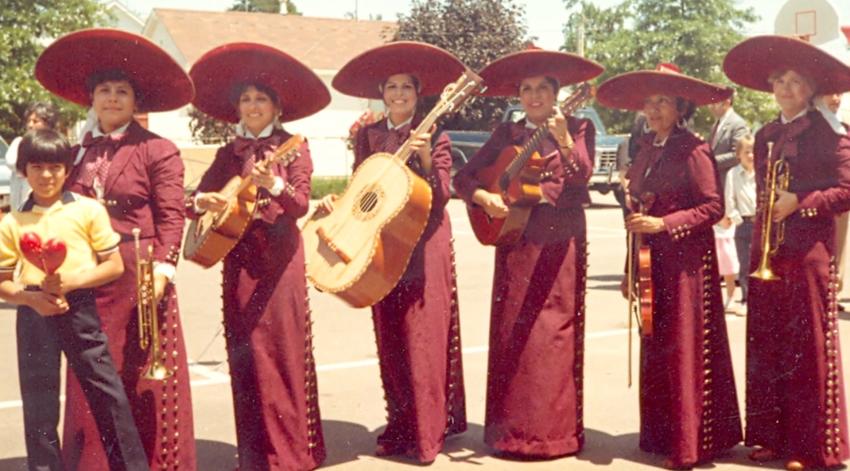 Mariachi music at the time was primarily dominated by males. Therefore, Mariachi Estrella was viewed as an anomaly when they first emerged in the public's eye during the 1970s and 80s. 
"Mariachi Estrella was one that kind of shocked people because it was all female...but to come from a church choir and to be in the heartland of the country, which is not a big Hispanic population - I mean, this group was a trailblazer. And they really set a bar for representing the city of Topeka and the state of Kansas," said David Chavez, CEO of INGEÑUITY.3 
Unfortunately, the band's legacy will forever be tied to the tragedy that took place at the Hyatt Regency Hotel in KCMO on July 17, 1981 when two walkways suspended above the hotel's crowded dancefloor collapsed. Six of the members of Mariachi Estrella, including Teresa, had been preparing to perform for a corporate event on the the walkway when it gave way. The accident killed 114 people and injured about 200. Those who died included Mariachi Estrella members Connie "Chae" Alcala, 32; Dolores Carmona, 35; Linda Rokey Scurlock, 36; and Dolores Galvan, 26. Among the survivors, Teresa came away from the accident with a crushed vertebrae and a concussion while her bandmate Rachel had a broken ankle and bruises.4
A monument called "Mariachi Divina," which honors Mariachi Estrella and the four members that passed away in the accident, was unveiled in front of the Topeka Performing Arts Center in July 2006.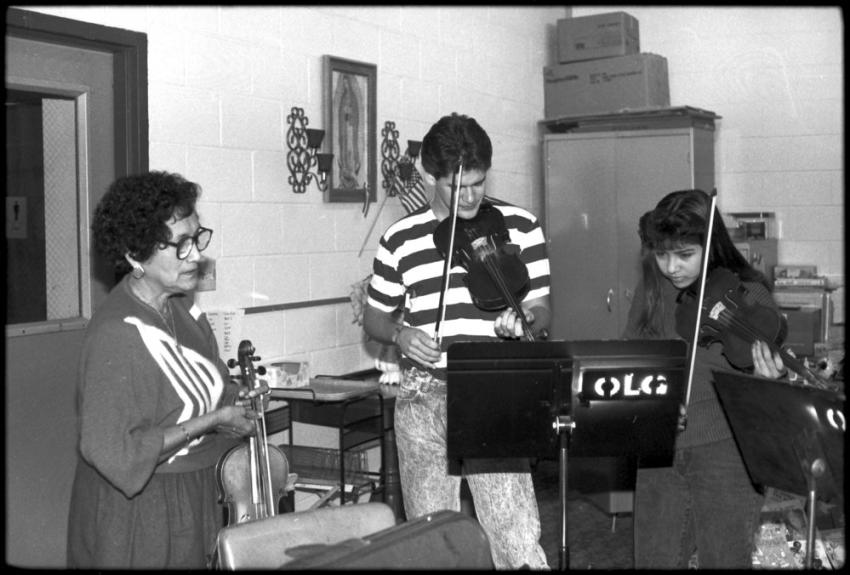 Despite the hardship, Mariachi Estrella continued on with Teresa and other band members, Rachel Sangalang and Isobel Gonzalez. Finding support within the Mexican American community and their parish, the bandmates were able to find new musicians apprentice under them and keep the tradition of the music alive in Topeka. 
Throughout her musical career, Teresa was adamant about continuing to pursue musical education and training. Shortly after her retirement, she apprenticed under renowned violinist and mariachi musician Laura Garciancano Sobrino. She studied with Sobrino in Santa Cruz, California and was able to learn from that locale's mariachi music scene. This and other trainings aided exponentially in the rebuild of Mariachi Estrella, as Teresa would go on to devote herself to the band and train younger members and future professional mariachi musicians. 
Teresa's family, many of which still remain in Topeka and the surrounding areas, are tremendously proud of her lasting legacy as a musician and community member. 
Michelle Cuevas-Stubblefield, Teresa's granddaughter, wrote of her grandmother's legacy: "Mariachi Music is traditionally only performed by men, yet for my grandmother, Mariachi music was a part of who she was. She loved her family, her community, her culture and she loved playing along-side amazing women impassioned by music the shared the joys, struggles and triumphs of life. She inspired generations to keep the music playing."
Teresa passed away in 2013. She was 93 years old. The Cuevas family in collaboration with the Downtown Topeka Foundation is planning on unveiling a statue of the influential musician in Downtown Topeka in fall 2021. It is to be the first statue of a woman and a Mexican American to be featured on Kansas Avenue.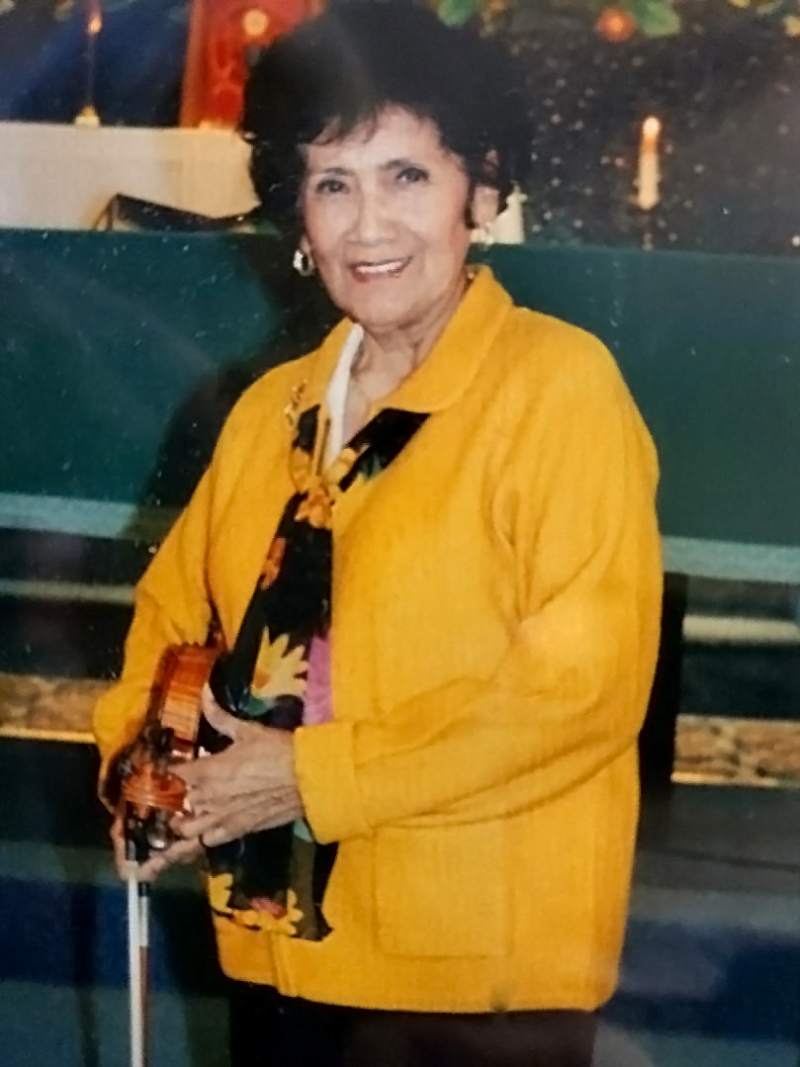 Sources Cited
1) "¡Que Viva el Mariachi!: Music, Meaning, and Movimiento." Soundscapes. Smithsonian Folk Ways Recording. 2021. https://folkways.si.edu/que-viva-mariachi-meaning-movimiento/latin-world/music/article/smithsonian.  
2) "Cuevas, Teresa - Kansas Folk Art." Kansas Historical Society. January 2016. https://www.kshs.org/kansapedia/teresa-cuevas-kansas-folk- art/16546. 
3) "Mariachi Estrella - Ad Astra Per Aspera." HumanitiesKansas. YouTube. May 2, 2011. https://www.youtube.com/watch?v=ZzcSze3K5CY&ab_channel=humanitieskansas
4) Hrenchir, Tim. "History Guy: Trailblazing mariachi musician born in Topeka a century ago." Topeka Capital Journal. April 15, 2020. https://www.cjonline.com/news/20200415/history-guy-trailblazing-mariachi-musician-born-in-topeka-century-ago