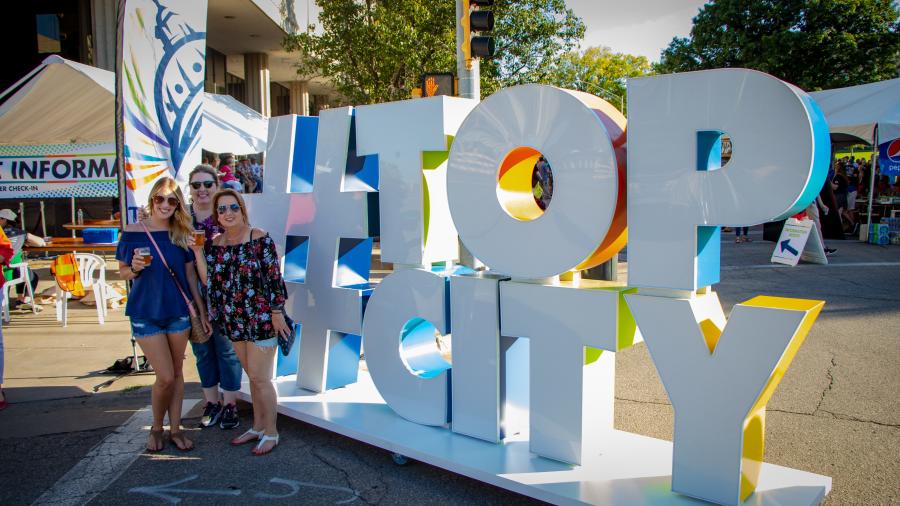 Attention everyone! Tap That 2019 is this Saturday and you don't want to miss out! With over 300 beers, Topeka proudly calls Tap That the biggest beer festival of the Midwest. But what should you expect from this topnotch event? Let us help you out!
ALSO READ: What's Brewing, Topeka?
WHEN DOES EVERYTHING START? 
Music and food trucks will arrive and open at 3:30 p.m. At 4 p.m., the VIP ticket holders get early access to special beers. Then, at 5 p.m., general admission ticket holders will get to enter. The sampling will go from 5 to 8 p.m.
TALK TO ME ABOUT THE BEER
Like we said, there will be over 300 beers at the festival, which might be daunting. The beers are coming from breweries all over Kansas, the country and the world. They will be split up into different tents to make your beer-tasting experience as easy as possible. If you're new to beer, the lagers may be a good place to start as they're usually a pretty good entry point into beer…but also, this is a beer festival, so it might be fun to get out of your comfort zone and try something new! Some local favorites that we recommend you check out are the Sidebar Saison from Barrister's Brewing, Inc., the Mary's Mango Hibiscus Blonde Ale from Iron Rail Brewing and the Mama's Breakfast Stout from Norsemen Brewing Company.  For a full list of beers, click here. If you're new to beer and are wanting to learn some terms and what they mean before you hit the tents, click here.
AND WHAT ABOUT FOOD?
Don't even sweat it, we've got you covered for food too! Food trucks will be waiting for you whenever you need a break from the beer. HHB will be serving up some fantastic barbecue, Taqueria Mexico Lindo will bless you with some gourmet tacos and Hyvee will give you the classic American food you crave.
WHAT ELSE YOU GOT?
Not only will there be beer, food and good conversation, but there will be music and entertainment happening all day.  DJ Rey 'J Lopez will be out all day giving you music to dance to. There will be inflatable basketball and wizard ball courts set up for people to enjoy. There will also be cornhole and Jenga to get your competition on!
BONUS! While you sippin' on suds, make sure to grab some treats for your puppers from our friends at Beer Paws. Their treats are made of recycled barley and other grains provided by craft beer makers like Happy Basset Brewing Company. FYI - these buzz-worthy treats don't contain soy, hops or preservatives. Your four-legged friend is sure to love these high-protein, high-fiber, low-fat treats.
OKAY, BUT WHERE DO I PARK?
There is free parking in downtown parking stalls on Saturdays, plus free parking in Crosby Place Garage at 108 SW 8th and Center City Garage at 825 SW Kansas (entry on 9th Street).
AND WHAT SHOULD I BRING?
Depending on how cautious/adventurous you are, you're list might change, but here are some things you might bring with you:
I.D. – *THIS IS A MUST!* No ID means no beer and no beer means sadness, so please, remember that ID!
A water bottle – Beer is a good time, but bodies also like water! Empty, CLEAR, reusable, plastic water bottles are permitted, e.g. Nalgene bottles. You will be able to fill them with water inside the festival. *Glass and aluminum bottles are prohibited.
A 21+ DD – In this family, we drink responsibly and drive responsibly. If you know ahead of time that you might not be good to drive, bring a DD! *To get into the festival you must be over 21, even if you're a DD. *
Sun screen – Sun protection is fun and makes your beautiful skin happy, so use it!
An umbrella – Right now, the forecast shows a slight possibility for rain. While tents will be up, it's always a safe call to bring an umbrella. 
Some spending money – There will be food trucks, pretzel necklaces (VIPs get these free), merch, and dog treats available at the event, so if you know you want any of this, bring a little extra cash!
WHAT SHOULD I NOT BRING?
Pets – If you have a service dog, they are more than welcome. Otherwise, we want our four-legged friends to be happy and this won't be the most pet-friendly environment.
Outside alcohol – We have all the beer you need. Please don't bring your own!
Outside food and beverages
Weapons (i.e. knives, pepper spray, stun-guns, concealed weapons, firearms, etc.)
Illegal drugs – I mean, duh.
Unapproved pamphlets, handouts, advertisements, etc. – We're looking for a good time with friends and beer. Other promotions aren't what we're here for.
ALRIGHT, I'M SOLD! WHERE DO I GET MY TICKETS?
This sounds fantastic, right? *chef kiss* If you haven't gotten your tickets yet, go for it now by clicking here.
If this didn't answer your questions, check out our site for an extensive list of answers to almost any question you might have!