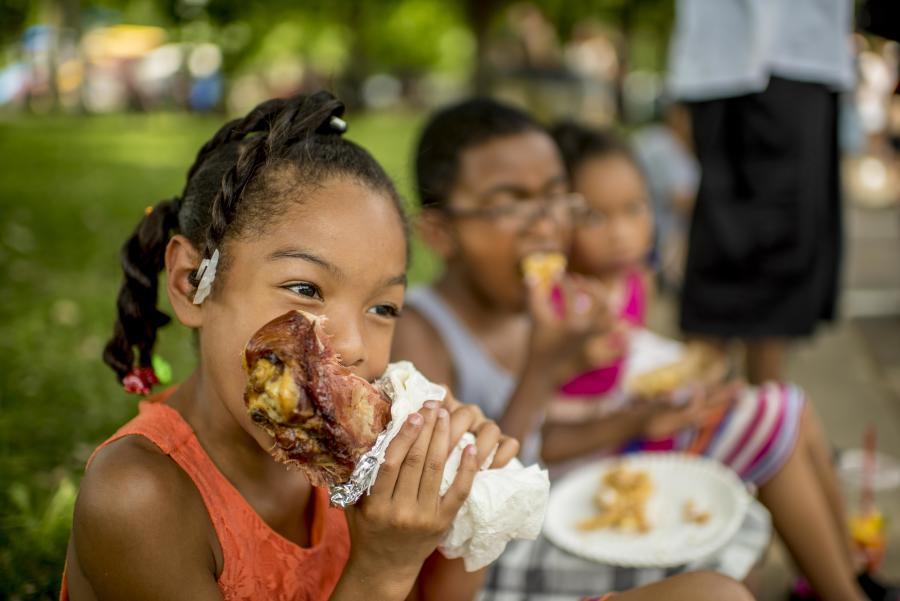 Has something been missing from your take-out dining experience lately? Are you in dire need of some ambiance? Whether you're eating with the entire family or going solo, these are several scenic spots in the Capital City where you can enjoy the view and your food. 
REMEMBER TO BE GOOD STEWARDS OF THE OUTDOORS: Wherever you decide to dine, always pick up your trash!
ALSO READ: 6 Places to Hang Your Hammock in Topeka, KS

Unconventional Choices: 
Old Prairie Town at Ward Meade
Step back in time to the 1800s with a visit to Old Prairie Town at Ward-Meade Historic Site. The 1800s village features a replica of the 1854 Log Cabin in which pioneer and wheelwright Anthony Ward raised his family while constructing the Ward-Meade mansion which is now on the National Register of Historic Places. No visit to Old Prairie Town is complete without a pleasant stroll through the 2 1/2-acre Ward-Meade Botanical Garden.
Kansas Museum of History Trails
A must-see spot if you're a history lover, Kansas Museum of History is surrounded by 80 acres of Kansas grasses and woodlands - the perfect view for any meal!
Topeka Cemetery
Where history collides with the ghosts of our past, Topeka Cemetery is the oldest chartered cemetery in Kansas, dating to 1859. On the National Register of Historic Places, the 80-acre cemetery has scores of monuments that are works of art, including Mausoleum Row and the 40-foot Hurley obelisk.
Tour local cemeteries in Topeka, Kansas.

Parks & More
Lake Shawnee 
Enjoy your meal lakeside at Lake Shawnee! Within the 1,100-acre park surrounding the lake are plenty of picnic tables, foot trails, boat rental options, a golf course, a marina, tennis courts, shelter houses, ball diamonds and campground. 
Gage Park
Gage Park is a beautiful 160 acre park and is one of the star attractions in Topeka. Gage Park has a history dating back to 1899, when the heirs of Guilford Gage donated 80 acres of land west of Topeka between 6th and 10th Streets. The space includes a fishing pond, rose garden, carousel, a bark park, various playgrounds and picnic grounds. The Topeka Zoo and Conservation Center is also located within the Park. 
Shunga Trail Parks
The Shunga Trail is a 13-plus mile trail that  offers paved (and unpaved) running trails, grassy meadows,and forested woodlands along Shunga Creek. The Trail is home to numerous parks, including Big Shunga Park and Crestview Park. 
Kaw River State Park
Kaw River State Park, near the Governor's Mansion, offers tranquil wooded escape, perfect for picnics and hikes It also offers access to the Kansas River. (Get more information about the KRSP access point from the Friends of the Kaw River Access Map.) The river is not suitable for novice paddlers except for during organized events.

Urban Spots
Evergy Plaza
Evergy Plaza is located in the heart of Downtown Topeka. The perfect location for a hangout spot, picnic or concert, the Plaza features a splash park, stage, seating areas, food truck hookups and more.
The Capitol Grounds
You can't get a better view of the historic Kansas State Capitol Building than from its surrounding grounds. Shaded and expansive, the Capitol lawn has various spots to sit and enjoy the Capitol and downtown setting. 
Redbud Park
Located in the NOTO Arts District, Redbud Park features various forms of art including sculptures and murals. 
While you're here, be sure to check out Topeka's other outdoor escapes and green spaces. And if you're having trouble deciding where to order your next meal, head on over to our Restaurant Page.