GUIA PARA LOS QUE VIENEN POR PRIMERA VEZ
Tanto si acabas de mudarte aquí como si estás visitando por primera vez, vas a estar bien.
No importa ni cuántos años tienes ni tus preferencias, Topeka tiene algo para ti.  Tráete a la familia y vive la historia de la Capital en uno de los museos o deja que los niños corran libres en uno de los muchos parques o centros recreativos. Trae tu botella de agua y tu canasta de picnic y dirígete al Lago Shawnee para divertirte al sol o disfrutar del paisaje en uno de los muchos senderos de la zona. El lago fue nombrado el mejor lugar para visitar en Kansas por el sitio web de viajes de Expedia.
Topeka es hogar de una próspera comunidad artística y de artes de la interpretación. Echa un vistazo a las galerías y teatros para una noche relajante. Si tu estilo es más la música en vivo, lo tenemos cubierto; escucha algunas canciones simples en cualquiera de nuestras cantinas de blues o súbele el volumen a tope, o a algún punto intermedio, en uno de nuestros locales.
El Capitolio de Kansas es un lugar que tienes que visitar si esta es tu primera vez en Topeka. La dirección es 300 SW 10th. Después de 13 años y $330 millones de inversión, el Capitolio ha vuelto a su gloria original. Puedes ver exhibiciones de personas notables de Kansas y hacer un recorrido histórico que explica la historia del edificio y su arquitectura. No te olvides de hacer el recorrido hasta la cima de la cúpula para ver una panorámica de la ciudad desde el edificio más alto
de Topeka.
Otro lugar popular es el distrito de artes NOTO de Topeka, al norte del centro de la ciudad. Con una variedad de tiendas especializadas, galerías de arte, restaurantes, bares y cervecerías, siempre hay algo especial que ver en NOTO. Come algo, después camina por la calle y toma una cerveza en The Norsemen Brewing Co. A solo unas cuadras de distancia, cruzando el río Kansas, se encuentra el centro de la ciudad recientemente renovado. Explora los pequeños parques mientras disfrutas aún más de compras, comida y diversión.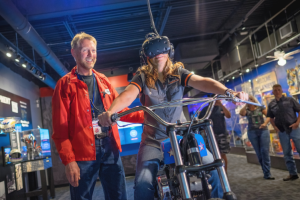 El Evel Knievel Thrill Show and Museum en el histórico edificio de Harley-Davidson es el único museo oficial de Evel Knievel en el mundo y seguramente impresionará a cualquiera que lo experimente. Descubre todos sus recuerdos, desde su camión Mack 1947 "Big Red" hasta sus cascos dañados, su mono y, por supuesto, sus Harley-Davidsons. Revive sus acrobacias que desafían a la muerte de una manera completamente nueva en este espectáculo de emoción único en su tipo.
Para más emoción, visita el Kansas ExpoCentre para todo tipo de eventos: eventos deportivos, exhibiciones de armas, peleas de A.M.M., camiones monstruo, música y mucho, mucho más. Recuéstate en el borde de tu asiento con comida y bebida y prepárate para disfrutar del espectáculo.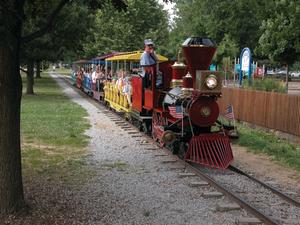 No te olvides de ir a Gage Park para el mejor viaje familiar que perdurará en la memoria. Pasea en el mini tren para disfrutar de una vista panorámica del parque, luego camina hacia el carrusel antiguo para adentrarte en el mundo de los recuerdos. No olvides los trajes de baño porque el Centro Acuático Familiar de Blaisdell está ubicado en el medio del parque. Si eso no es suficiente, el mundialmente famoso Zoológico de Topeka está allí esperando que descubras animales de la sabana africana, la selva, la jungla e incluso animales que podemos encontrar en nuestros patios traseros. No te vayas del parque sin visitar el Kansas Children's Discovery Center. El galardonado museo para niños es una "verdadera diversión".